"We're here to help those in need"
Food Pantry
We operate a food pantry within our daily business hours Monday through Saturday. Through a partnership with Hunger Free Polk County and the Board of Supervisors, we also operate an evening food pantry Tuesdays and Thursday from 5:00 p.m. to 7:00 p.m. for the benefit of those who may not be able to come during the day. This night pantry is held at our 6th Avenue Location. Doors open for the Tuesday and Thursday Night Pantry at 4:30, and clients are served on a first come first serve basis.
Appointments can be scheduled for the current day in our thrift store, or over the phone for the following day, subject to availability.

6th Avenue Location
Monday: 11:30 A.M. – 4:30 P.M.
Tuesday: 12:00 P.M. – 4:00 P.M.
Thursday 11:00 A.M. – 4:00 P.M.
Friday 11:30 A.M. – 4:30 P.M.
Saturday 9:00 A.M. – 2:00 P.M.
---
Army Post Rd. Location
Mondays, Wednesdays, and Fridays 11:00 A.M. – 6:00 P.M.
Tuesdays and Saturdays 9:00 A.M. – 1:00 P.M.
---
In order to make an appointment please contact Social Services staff.
6th Avenue : 515-282-8327 Ext. 14
Army Post Rd. : 515-282-8328 Ext. 30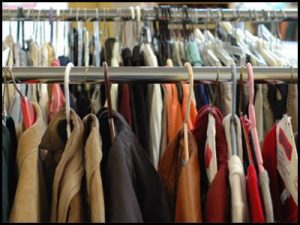 Clothing
We provide free clothing to those in need. Our clothes closet operates on Monday through Friday and is open to anyone who needs clothes for themselves or their family. This service allows for them to maintain dignity and self-esteem when applying and re-entering the workforce. Children need clothes particularly when the new school year starts and in the winter when the snow flies and temperatures drop.
Address: 1426 6th Avenue, Des Moines, Iowa 50314
Hours
Tuesday: 12:00 – 4:30 PM
Wednesday: 11:00 AM – 4:30 PM
Thursday: 12:00 -4:30 PM
Friday: 11:00 AM – 4:30 PM
---
Address: 520 Army Post Road, Des Moines, Iowa 50315
Mon, Wed, Fri: 11:00am – 6:00pm
Tues & Sat: 9:00am – 1:00pm
Furniture
Furniture is made available at a significant discount on a case by case basis, depending on availability and need.
Financial Assistance
For those who have fallen behind on their utility bills or rent under $700, we can help. All assistance is based on an interview by mission services staff , need, and availability of funding.
Individuals seeking financial assistance will also attend a educational opportunity focused on financial literacy or career readiness to help them further.
Young Parents Initiative
The St. Vincent de Paul Young Parents' Initiative is designed to help young men and women successfully transition into parenthood by offering support and assistance to young women and men that are new or expecting parents. This class focuses on child safety and healthy relationships. Students who complete all four classes are eligible to receive a large baby related item, such as a crib or car seat. Please contact Kelsey Bruggeman at (515) 282-8328 Ext. 65 for more information on class dates and times.
Address: 1426 Sixth Avenue, Des Moines, IA, 50314-2801