The Society of St. Vincent de Paul was founded by college students in Paris, France, and has always relied on young people to provide new lifeblood to its works of charity. Simultaneously, the Society gives women and men — young and old, and from every background — the means to join together to grow spiritually by offering person-to-person service to those who are needy and suffering in the tradition of its founder, Blessed Frédéric Ozanam, and patron, St. Vincent de Paul
As a reflection of the whole family of God, members, who are known as Vincentians, are drawn from every ethnic and cultural background, age group, and economic level. Vincentians are united in an international society of charity by their spirit of poverty, humility and sharing, which is nourished by prayer and reflection, mutually supportive gatherings and adherence to a basic Rule. Organized locally, Vincentians witness God's love by embracing all works of charity and justice. The Society collaborates with other people of good will in relieving need and addressing its causes, making no distinction in those served because, in them, Vincentians see the face of Christ.
Student service hour opportunities in Des Moines include:
Organizing student activities for special events such as the annual Friends of the Poor Walk, Phyllis Davis Linen Drive, Operation Santa Claus and annual golf outing;
Childcare for children of students in adult education classes in evenings and weekend;
Assisting our store staff by sorting and hanging clothing at 1426 Sixth Avenue store
Lawn work at 1426 Sixth Avenue store
Serving food at evening food pantries on the first and third Tuesday of each month evening;
Packing food boxes at evening food pantries;
Assisting with Thanksgiving and/or Christmas food box preparation;
Sorting and bagging toys in December for Operation Santa Claus.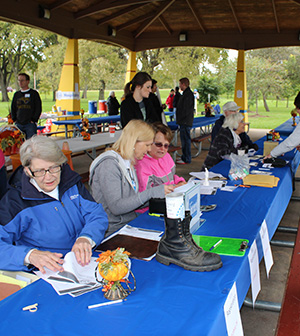 To schedule service hours, open the link below and follow the instructions provided, or contact Scott Sandberg at 515.282.8327 or secretary@svdpdsm.org.