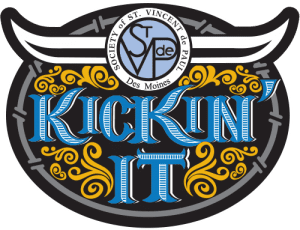 We Kicked IT!
Thanks to a great committee, generous sponsors, donors & guests our 2nd Annual Kickin' It Giving Gala was a big success. We had over 150 in attendance and the Ron Pearson Center served up a delicious buffet for everyone's dining pleasure. New this year was a silent auction, and a photo booth.
Guests could dress in hats and glasses and create lasting memories all evening long. The evening concluded with award presentations which were given to Don Lamberti, Eli Holt and Jodi Urich for their countless hours of service and years of dedication to SVdP.
Save the date for Kickin' It #3 – which will be held August 3, 2018 at the Downtown Holiday Inn.