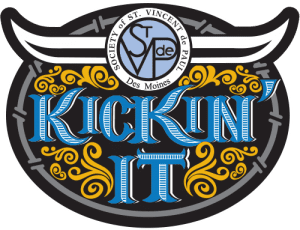 Friday, August 3, 2018
Our third annual Kickin' it Giving Roundup will be an event to remember.
Put on your cowboy gear and help St. Vincent de Paul kick hunger to the curb! Please join us at the Downtown Holiday Inn – Mercy Campus from 6-9PM. The evening will be filled with dancing, drinks, food, and a silent auction.
Last year, St. Vincent de Paul raised over $24,000 which helped provide $1.3 million of charitable services to over 27,000 individuals. In 2017 we were also able to expand classes in our education center, start a Young Parent Initiative to assist struggling young parents with basic infant needs, expanded pantry hours, and provide healthy relationships/communication courses within treatment and correctional facilities through our prisoner re-entry program.
---
How can you help?
We are asking you to purchase a table or tickets to help us keep kickin' hunger to the curb!!

Kickin' poverty to the curb – $10,000 Presenting Sponsor includes 24 reserved seating tickets to the event
Boots are made for walkin' – $5,000 Event Sponsor includes 16 reserved seating tickets to the event
Kickin' in for Education – $1,000 Diploma Sponsor includes 8 reserved seating tickets to the event
Boot'n into the good life – $100 per person, $75 per person for young professionals under 30
Can't make it – but want to help – No pre-selected dollar amount for a donation – just whatever you want to give
Ready to reserve your table?
Fill out the form below or contact Randi Radosevich at resourcedirector@svdpdsm.org.
Checks can be made payable to: St. Vincent de Paul "Kickin It", 1426 Sixth Avenue, Des Moines, Iowa 50314
---