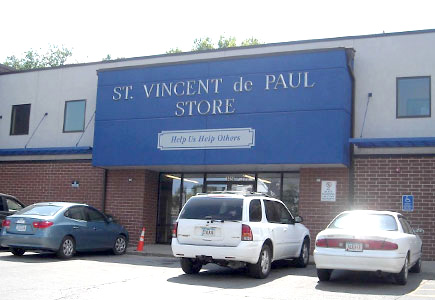 Address: 1426 6th Avenue, Des Moines, Iowa 50314
Hours: 9:00 a.m. to 6:00 p.m. Monday through Saturday
Phone: (515) 282-8327
Facebook: fb.me/SVDPofDSM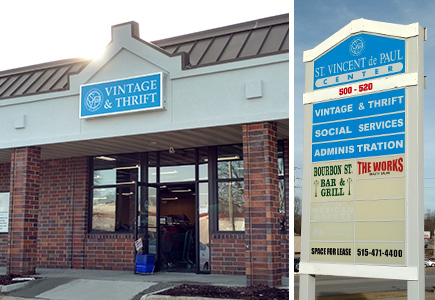 Address: 520 Army Post Road, Des Moines, Iowa 50315
Vintage & Thrift Store Hours: Monday – Saturday: 9:00am – 6:00 pm
Phone: (515) 282-8328
Facebook: fb.me/SVDPofDSM
The Society operates two thrift stores in the Des Moines area, located at 1426 Sixth Street & 520 Army Post Road. Donations are accepted Monday through Saturday 9:00a.m.-5:00p.m. Closed seasonal holidays.
Chad Caligiuri, Director of Retail Operations, can be contacted at dirretailops@svdpdsm.org
Return Policy
There are no returns on items sold from the store. You are urged to check out all items before leaving, and electronics can be plugged in and tested. There are no in store credits. Items left in the store and not picked up after 2 days will be re-sold unless contacted.
Delivery Charges
There is a $50 delivery fee on any item or items purchased at SVdP. Please call Chad Caligiuri at 515-282-8327 Ex. 280 for verification. Delivery fees are subject to change.
We accept refrigerators, in good working condition, but not other major appliances. Donations of furniture, clothing, household and other miscellaneous items, as well as food/bread donations, can be made at 1426 Sixth Avenue between the hours of 9:00 a.m. and 5:00 p.m., Monday through Saturday."
Pick up of donations are done by zip codes on the following days:
Monday: 50111, 50325, 50324, 50323, 50322
Tuesday: 50312, 50311, 50310, and 50309
Wednesday: 50035, 50327, 50317, 50316, 50314, 50313, 50021, 50023, 50131 and 50009
Thursday: 50266, 50265 and 50263
Friday: 50321, 50320, 50315, 50211, 50125 and 50047(every other Friday)
No pick ups are made on Saturdays or holidays.
We would appreciate it, especially if the donation is small, that you bring it in to our drop off at either location.
Items we are not able to accept include: computers, printers, entertainment centers, exercise equipment, medical equipment, televisions that are older than five years old, pianos, organs, water beds, metal desks, car seats, strollers, baby furniture, furniture that is torn, stained or in need of repair, and home improvement item. Mattresses cannot be older than 2017, must have original tags, and cannot have rips or tears.